3RD SINGLE OFF CELESTIAL SONGS
Again we see Chris mine the wealth of his home movies involvin' his 2 boys, walkin' around Central Park NY on a cold but sunny day. Boys wear winter clothes. Breathe clouds up. Look rugged up. They visit a few John Lennon landmarks.
Geoff also appears briefly doin' what he does. Ridin' a subway train lookin' slightly suspicious 😉
Now Chris has said this started on piano in a minor key then bursts into a major key like the sun dramatically burstin' out on a cloudy day. Gee. Chris don't give away all the trade secrets . 😯
Now. To my ears this is a song Chris Martin would've given his right arm to have written and sung. Close your eyes. In parts Braide sounds exactly like Martin. Earnest keenin' and yearnin' and all.
In recent interview he mentions Let It Be as an influence. Sure. Beatles influence most songwriters. To me? It's a dead set Coldplay steal. But. He knows what he's doin'. Britains's most streamed co-songwriter with Sia.
No surprise it opens the album even though it starts in a minor key and has a Barney poetry intro.
If there was any justice in this world, this song would be on every radio station in the world this mornin', encouragin' the tired and huddled masses. But. As we know. There is no justice in this world.
.................................................. ...........................
"It's tempting to say that we think it's our best album yet." Downes Braide Association release Celestial Songs
By
Jerry Ewing
(
Prog
)
published about 9 hours ago
Melodic prog duo Downes Braide Association also share new video for Look What You Do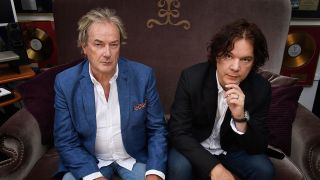 (Image credit: Tina Korhonen)
Melodic prog duo
Downes Braide Association
, the band featuring
Yes
keyboard player
Geoff Downes
and singer and producer Chris Braide, release their fifth studio album,
Celestial Songs
, through Spirit Of Unicorn Records today, September 8.
"It took a few years to make this new DBA album, through the various trials and tribulations of life, and Geoff and I are excited to finally share it with the world," exclaims Braide. "It's tempting to say that we think it's our best album yet, but we will let the listener decide. Hope you enjoy the journey."
"I am super excited about the release of our forthcoming new album," adds Downes. "Chris and I worked really hard to create something that was special to both of us, and the result –
Celestial Songs.
We are certain that if you liked our previous albums, then you are going to love this one. Please sit back, listen and enjoy the DBA journey. All best, Geoff."
At the same time the duo have shared a video for their brand new single
Look What You Do
, the opening track from
Celestial Songs.
"It starts with a lovely minor key piano piece, written by Geoff and has a mournful, yearning guitar part," Braide explains of the new single. "It then opens up into the major key of the song which is like the dawn after the darkness.
"I started the idea in Los Angeles at the piano and just sang a phonetic kind of lyric on the mic, one take. I thought I'd go back and re-sing it with a more structured lyric, but I just loved the emotion of the (original) vocal. Plus, the lyric '
Give me time, that's all I want 'cause nobody knows'
seems to mean so much to me. I couldn't better it really. It says what I wanted to say without me even realising it. It's quite Beatley, I suppose. The second verse has those big
Abbey Road
-type strings blocking out the chords. I wanted to write a
Something
or a
Let It Be
- no small ambition then! The song returns to Geoff's piano motive, but this time it's major. It's like the sun has risen and we are looking back at a life with love."
​
_____________________________________________
YOU ARE MY MIRROR TO THE SKY